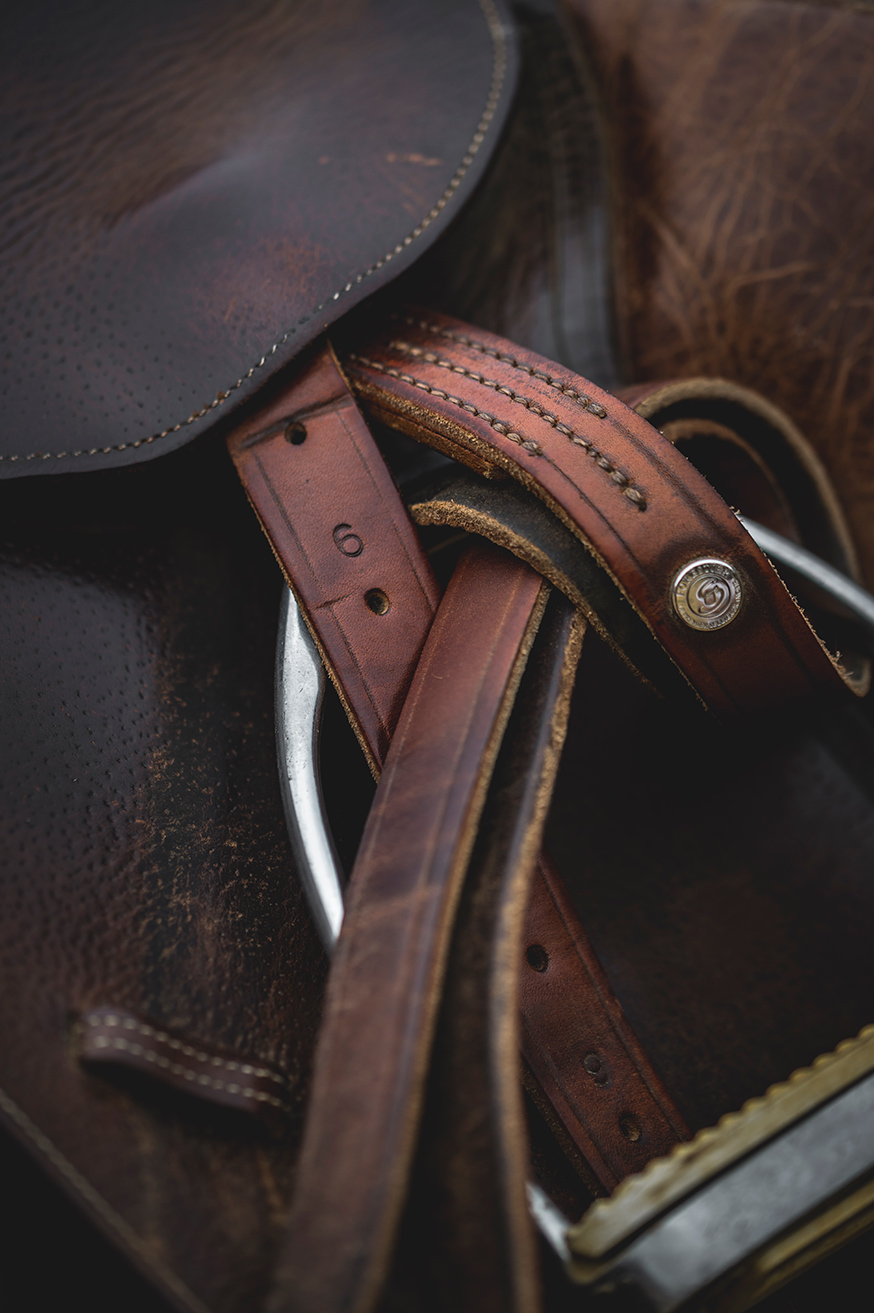 Our history
---
1972
Experience taught us that 10% of Cognac qualitative differentiation comes from soil, 40% from pot still distillation and 50% from barrel ageing. The unique concentration and aromatic expression of our "eux-de-vie" originales straight out of our distillery legacy with our one-of-a-kind technical path. Mr Leopold Gourmal was a saddle-maker and a famous vine grower on Ré-island. When his grandson Pierre Voisin created his distillery, he named it with the same name to pay him tribute.
Authentic elaboration
---
A tamed yet savage Cognac
Meticulous selection
---
We mainly work with Ugni-Blanc out of the Fin Bois appellation, located 10 kilometers south-east of Bouteville. In this area, the soil breakdowns in clay and granite alongside sand and limestone. This allows rootstock to dig deep into the soil and get trace element. We favour wines with higher degrees (around 9%) with yielding at 90Hl/Ha to offer the best balance between acidity and degree.
Atypical distillation
---
Our craft distillation approach distinguishes our house. With a focus on un-standardization of our eaux-de-vie, we are aiming to extract most qualitative aromas out of our wines. We carry out fat distillation (with the lies) to get more complexity and aromatic concentration. We work with 30hl pot cooper stills fulfilled at 25hl to give more typicality to our eaux-de-vie, thanks to the positive twist brought by the cooper. A consistent mastering of gas pressure allows us to delay the cut and get more heart of the "bonne chauffe" in which we deliberately decrease alcohol at low level (52%) for more flavour.
« A la Gourmel » ageing
---
Notifying the importance of ageing in "eaux-de-vie's" quality, Leopold Gourmel house invented a unique production method named "à la Gourmel" (The Gourmel way).
Our casks have in majority a capacity of 350 Liters, they are slightly toasted (medium toast) to unleash less tannins and preserve Cognac aromas. Every distillation is on average aged in 30% new oak casks. We operate a rotation between new and second-hand casks during the first 24 months. Reduction is then we carried out with our own patented process. Lots are split in two: one of which is reduce at 30° and called "weak" whilst the other is at 68° and called "strong". The reduction takes place by pouring strong on weak, dropping by 3° every three months and thus avoiding soapy taste. The well treated eaux-de-vie showcase their utmost qualitative aromas.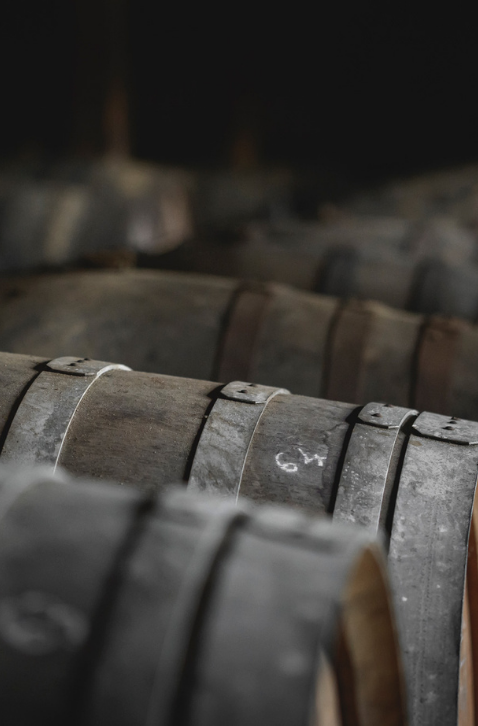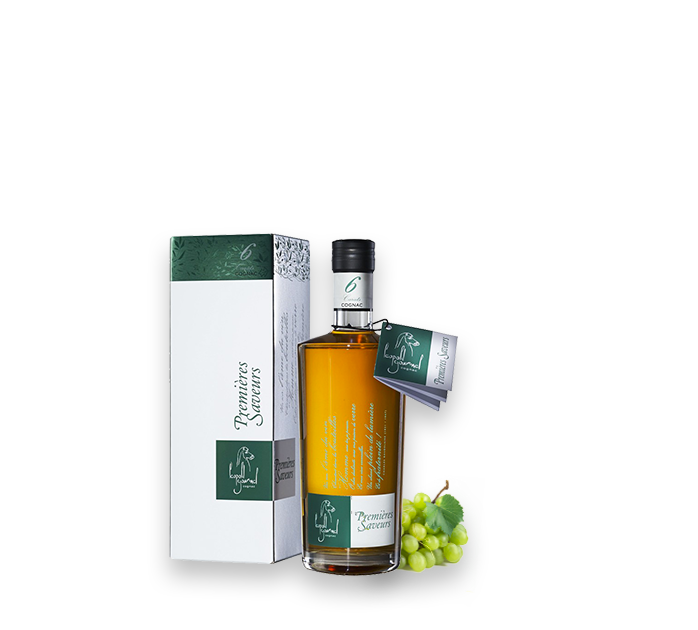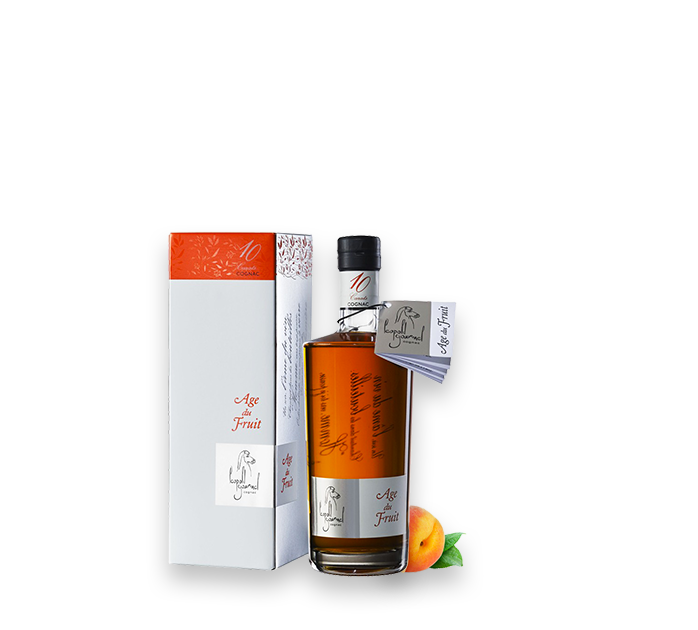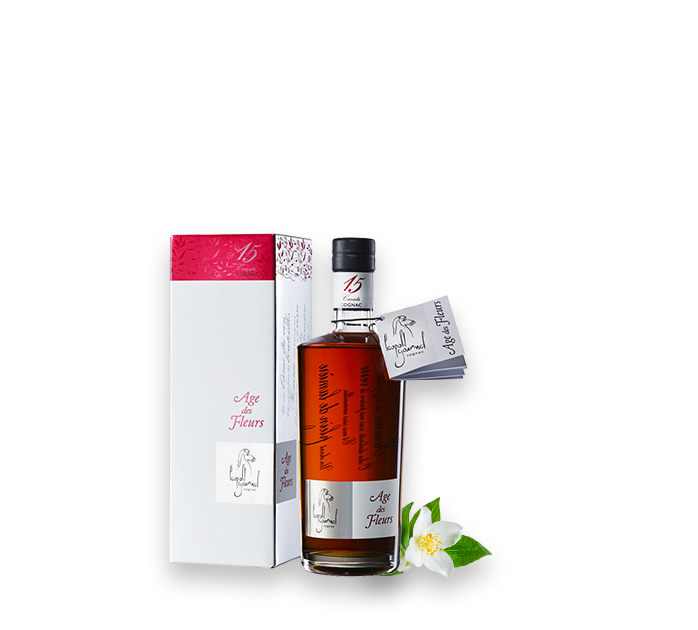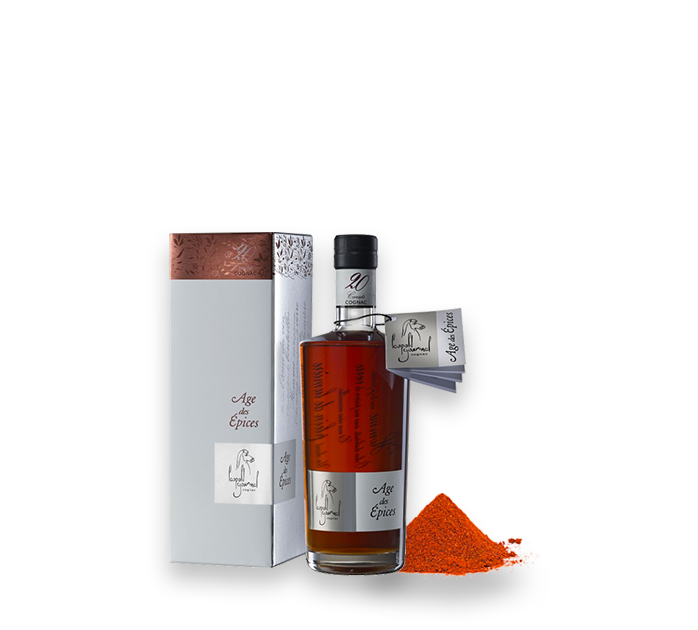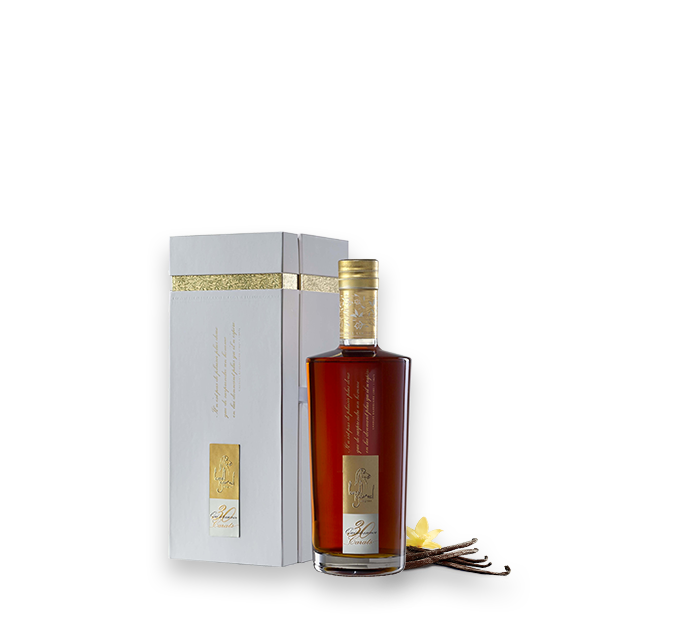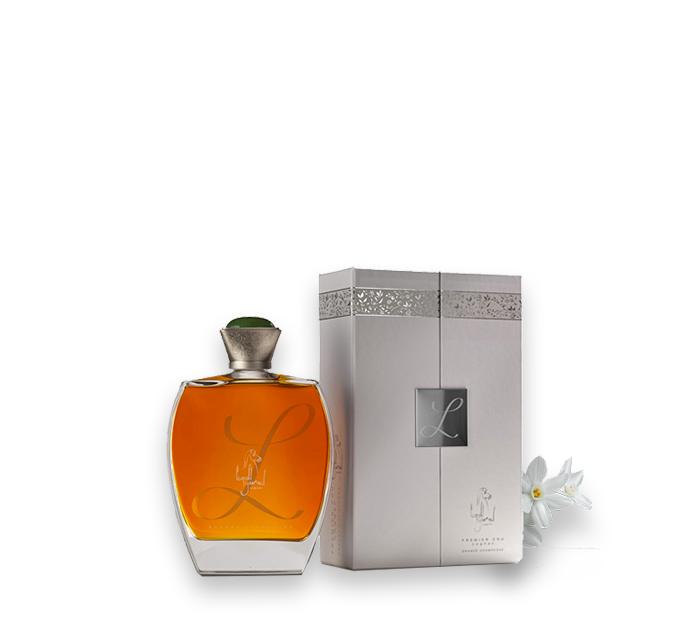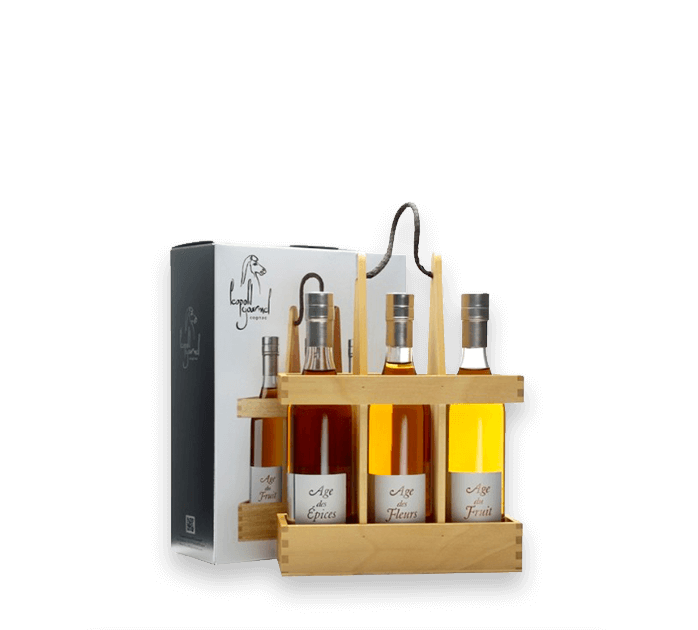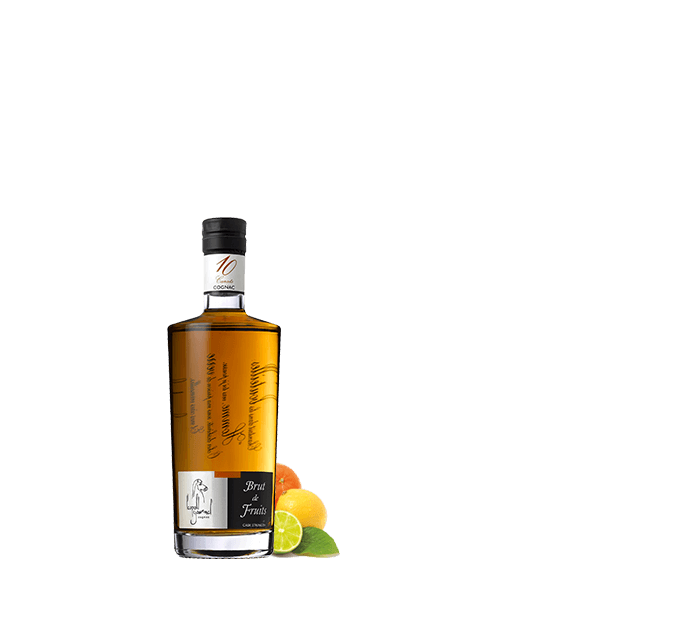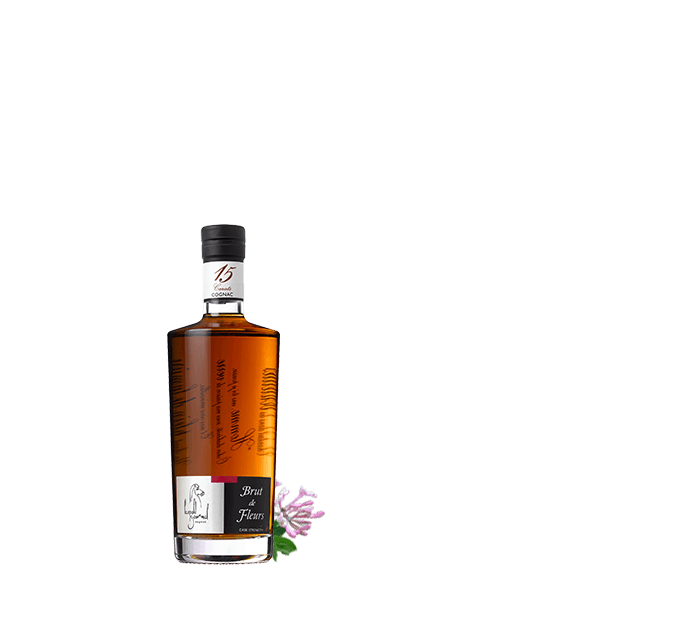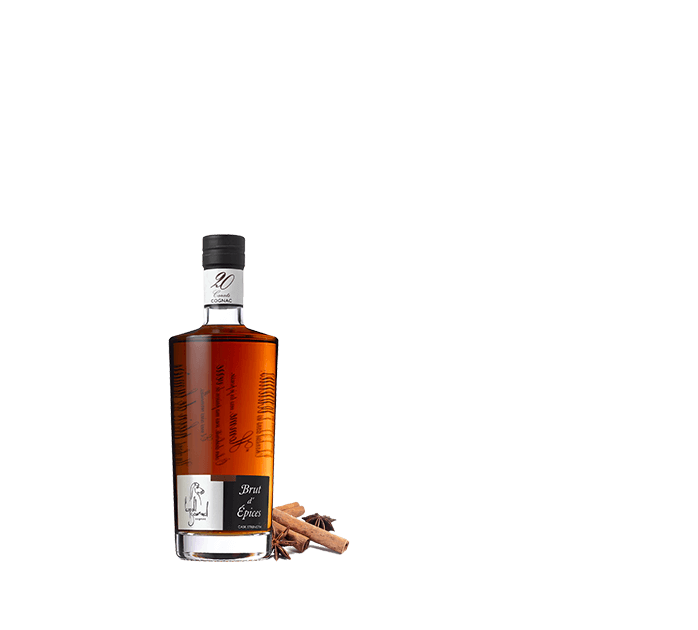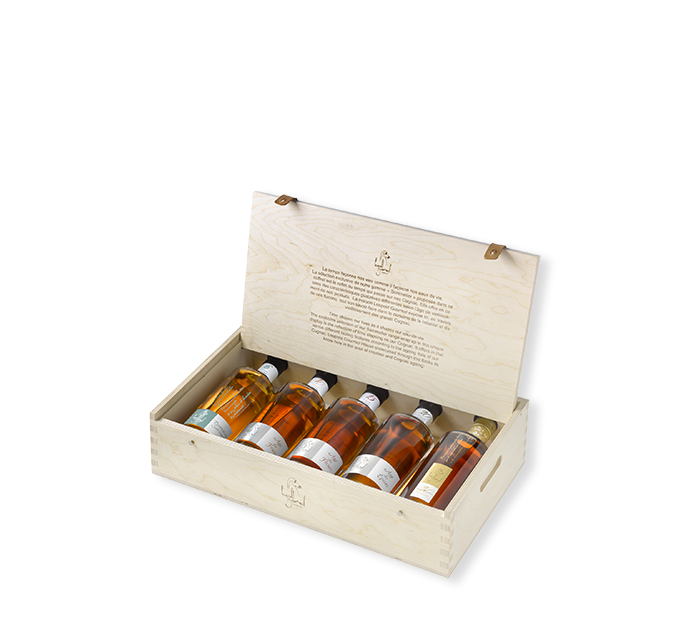 Our products
---
Sommelier Range
Premières saveurs

˜

âge du fruit

˜

âge des fleurs

˜

âge des épices

˜

Quintessence

˜

Carafe L

˜

Promenade en Cognac

˜

Brut de fruits

˜

Brut de fleurs

˜

Brut d'épices

˜

Une vie de Cognac

˜
---
First Flavors
6 carats
Behind the youth of a fresh and dynamic eau-de-vie, our Cognacs already reveal their complex personality. The first fruits and ageing effects appear.
~ Tasting : A golden pale couleur, a fresh nose dominated by white fruits (such as peach, pears …). Attack and mid-palate are intense with notes of fresh nuts finishing on a lively toasty taste. ~
~ Pairings : Its freshness gives a nice balance with an espresso coffee or a black chocolate at 70% minimum. ~
Age of Fruits
10 carats
The age of fruit precisely reveals aromas given by our distillation method. At this stage of ageing, the eau-de-vie is slightly marked by oak allowing fruit notes to dominate the tasting and reveal all its potential.
~ Tasting : Upfront golden couleur, fresh almonds nose and slight bitterness. Intense in the mouth, aromas of dried fruits and citruses with notes of orange zest and lemon. ~
~ Pairings : Its balance easily completes white wines and seafood or whit meat dishes. Ideal with Asian or Scandinavian food. ~
Age of Flowers
15 carats
Age of flowers represents the perfect balance between freshness and aromatic complexity. It owns one of the widest aromatic palettes of our range.
~ Tasting : Colour between golden and amber, the nose is clearly dominated by white flowers such as rose, Jasmine and vanilla blossom, truly balanced in the mouth, straight with notes of linden and honeysuckle. ~
~ Pairings : its balance allows itself to perfectly follow meals with red meat along with red wines. ~
age of spices
20 carats
Age of spice embodies the result of our one of a kind ageing method : A rich, complex and concentrated eau-de-vie, round, homogenous and delicate.
~ Tasting : Amber colour, wooden nose with notes of honey and musc. Mid-palate is rich with notes of coriander, blanc pepper and cloves, ginger and gingerbread. ~
Quintessence
30 carats
Quintessence is the ultimate outcome of Leopold Gourmel house. Complexity, flavours and balance are at their utmost. Following the previous aromatic period, it is with our Quintessence that the sommelier range takes all its sense.
~ Tasting : Deep amber colour, nose recalling the old sauternes vintages. In the mouth, notes of red fruits, chamomile and citronella ending on a very long caudalie dominated by bourbon vanilla. ~
~ Pairings : Salted dishes with sour twist (yuzu, citron) balance its round and velvety aspect. ~
Carafe L de Gourmel
L de Gourmel decanter is the outcome of a long selection work on our Grande Champagne soils. It holds as requirements specifications: aromatic purity, balance in mid-palate along with a complex finish. A long rotating agein between new and secondhand casks result in our most evolved and qualitative eau-de-vie. L is offered in a unique signature decanter set in a solid weeden framework as a tribute to the casks in which they were born.
~ Tasting : Extremely rich mose of hawthorn slowly evolving towards nut aromas. In the mouth, the attack is smooth and progressive with notes of fresh flowers and almond finish gathered with a slight toastiness. ~
Cognac Walk
Throughout this pack with three Cognacs from our Sommelier range, Age of Fruit, Age of Flowers and Age of Spices, discover the evolution of our "eaux-de-vie" within 10 years of ageing. A true stroll in cognac.
Brut de fruits
10 carats
~ Tasting : Golden colour. Floral nose heading on acacias flowers. Elegant mouth and spicy. ~
~ Pairings : Enhanced toasty notes of espresso coffee. ~
Brut de fleurs
15 carats
~ Mouth : at first, warm and rich, strong on the tongue, hot but velvety in the throat, beautiful, long finish with hints of linden and honeysuckle.
~ Pairings : after a meal with game or red meat, or to prolong refined red wines. ~
Brut d'épices
20 carats
~ Tasting : Sustained amber colour, nose of dried fruits and dry linden blossom. Tannins are velvety in the mouth with notes of cook apple and spicy finish stretching on ginger. ~
~ Pairings : Acidity of fruit dessert creates a nice balance. ~
Une vie de Cognac
Time shapes our lives as it shapes our eau-de-vie.
~ The exclusive selection of our Sommelier range wrap up in this unique display is the reflection of time elapsing on our Cognac. It offers in that sense différent tasting features according to the ageing date of our Cognac. Leopold Gourmel House showcased through this flasks its know-how in the area of creation and Cognac ageing. ~